Last Updated on October 28, 2021 by Shawn Lee
 Project Situation
Tongde County is located in Hainan Tibetan Autonomous Prefecture, Qinghai Province, with the highest altitude of 4671 meters and the lowest temperature of -28℃. It is a typical high-cold and high-cold region, with a heating period of up to 7 months and huge heating demand.
Tongde County People's Hospital has about 200 wards in 8 wards, each with 2 ~ 6 floors, with a total construction area of 21,000 ㎡ and a heating area of 18,000 ㎡
Before the renovation, Tongde County People's Hospital used coal-fired boilers as heating sources, which consumed about 700 tons of coal every year. The local coal price was 900 yuan/ton, and the cost of coal procurement alone was more than 600,000 yuan. In addition, the electricity and personnel management fees (coal-fired boilers required personnel to be on duty 24 hours a day) made the total annual heating cost of the hospital as high as more than 700,000 yuan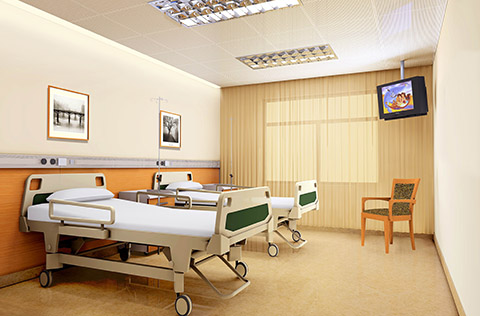 System Design
According to the heating demand of the hospital, 10 ultra-low temperature air source heat pump heating units with a total power of 450kW were installed in the project.
At the end of the equipment, horizontal concealed fan coil and card-type four-blower coil are adopted, with the outlet water temperature set at 55℃ and the supply and return water temperature at 55/45℃.
All units adopt wireless remote control, which can be controlled locally or monitored remotely by mobile APP or computer.
Ten units are connected in parallel, and the number of units to be started can be selected according to the external air temperature, so as to ensure the heating effect and maximize energy saving. All pipelines of the equipment are foamed and insulated, and the exterior is wrapped with aluminum skin to avoid freezing of pipelines caused by severe cold weather.
Operational Effects
In the past, hospitals used coal-fired boilers for heating, which lasted only 10 hours every day: 6: 00 am ~ 11: 00 am, 2: 00 pm ~ 4: 00 pm, and 7: 00 pm ~ 10: 00 pm. 24-hour all-weather heating can be realized after changing to air source heat pump heating.
In terms of heating effect, the indoor temperature of coal-fired heating is 20℃ in the morning, 18℃ from noon to afternoon and about 15℃ in the morning.
After changing to air source heat pump for heating, the indoor temperature can be kept at about 22℃ for 24 hours, which is warm and comfortable, and is very beneficial to the rehabilitation of patients.
Effect Analysis
The cost is half that of central heating
 Be more friendly to the environment
 The heating effect is more prominent
 More flexible control