Last Updated on April 2, 2022 by Shawn Lee
Product advantages of Chinese-made Guqin style surface-mounted fan coil units.
Working principle of surface-mounted fan coil unit:
The motor drives the impeller to rotate, forcibly inhales the indoor air, passes through the filter section for primary filtration, and then enters the surface cooler.
Filter section: filter dust and other impurities in the air.
Fan section: the forced flow of indoor air.
Heat exchange section: provide cold and heat sources to heat or cool the passing air.
Gu Qin surface mounted fan coil units are available in 7 models and specifications:
FP-51 FP-68 FP-85 FP-102 FP-136 FP-170 FP-204
The Guqin-style fan coil unit integrates the appearance characteristics of the Chinese classical musical instrument "Gu Zheng".
The appearance of the whole machine is calm and elegant, symbolizing the yearning for a better life.
The thickness of this exposed fan coil unit from China is much smaller than that of most similar models in the market, and its thickness is only 18cm.
Gu Qin table cooler with 30 copper tubes, copper tube spacing 21*12.7mm, 5 in and 5 out, aluminum foil fin density 1.3mm.
The advantages of these parameters directly determine the cooling and heating performance of the fan coil unit.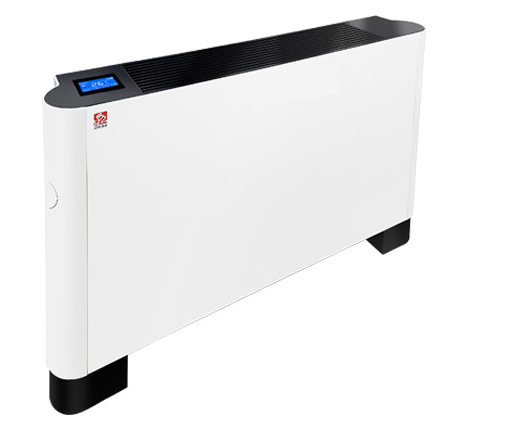 The Gu Qin fan coil unit is not only exquisite in appearance but also has superior product performance. These installation forms are simple and convenient.
5 advantages of making this surface mounted fan coil unit in China
Gu Qin 4-pipe floor standing fan coil unit has more product advantages:
1、
The sheet metal of the ultra-thin floor vertical fan coil is all made of flower-free and oil-free hot-dip galvanized sheet, which has a long service life, and the material surface is clean and smooth, and will never change color.
2、
The air outlet of the exposed fan coil unit is made of ABS material, which will not condense during cooling.
3、
Gu Qin surface mounted ultra-thin fan-coil wind wheel is made of environmentally friendly ABS material, encrypted blades, non-toxic and tasteless, with very good toughness, never deformed. The running noise is very low, 5 decibels lower than the running noise of the iron wind wheel.
4、
Two models of fan coil motors are available. Yongan motor and DC brushless motor.
5、
The switch is optional with black temperature control.
Touch Screen. Built-in WIFI function, realize mobile phone interconnection, remote control.
Product professional technical parameters:
It can be provided to your professional and technical personnel for analysis.
Temperature sensor: NTC thermistor
Power supply voltage: AC85~260V, 50/60Hz
Temperature control accuracy: ±1°C Self-consumption power: <1W
Temperature setting: 5~35℃
Load current: 2A (resistive load), 1A (inductive load)
Display range: 0~50℃
Terminals: capable of connecting 2×1.5mm2 or 1×2.5mm2 wires
Working environment: 0~45℃
Display: LED
Humidity: 5~95%RH (non-condensing)
Installation hole distance: 60mm (standard)
Keys: Touch key protection
Grade: IP30