Last Updated on December 31, 2021 by Shawn Lee
Concealed fan coil unit and exposed fan coil unit.
The concealed fan coil unit is including the following type: vertical concealed fan coil unit, horizontal concealed fan coil unit, and ultra-thin horizontal concealed fan coil unit. We are a Chinese manufacturer.
1、The exposed fan coil unit is including the following type:
4-way cassette fan coil unit
Wall hanging fan coil unit
Floor standing cabinet fan coil unit
Wall-mounted exposed fan coil unit
Vertical floor standing fan coil unit
Horizontal ceiling-suspended fan coil unit
If customers think suspended on the ceiling or mounted on the wall is not convenient。Our ultra-thin exposed fan coil units can stand on the floor and can be used directly after being connected with a water pipe and power supply.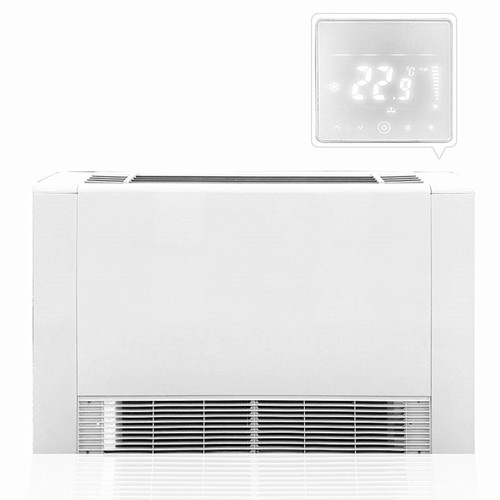 Because when installing them, ladder or other tools are needed to transport workers and goods to the air for installation and connect the water pipe and power supply to fan coil unit, which is inconvenient as well as after maintenance. It is very easy and simple.
If it is inconvenient for your customer to let the fan coil unit vertically stand on the floor, such as if there are children at home, they may fall and chip on it or inconvenient installation of water and power supply.
Our 4-pipe floor standing fan coil unit with 3.75 kW and 5.5 kW cooling capacity can also be used installed horizontally suspended on the ceiling.
Our ultra-thin exposed fan coil unit has two drain trays, which make the fan coil can be installed both vertical against the wall and the horizontal ceiling suspended.
Our floor standing fan coil adopts DC brushless variable frequency motor.
Brushless DC variable frequency motor has three absolute advantages:
)Energy-saving and realizing the freedom of electricity use;
)Five fan speeds, which can automatically switch from the lowest speed to the highest speed, and the thermostat can control the automatic adjustment of fan speed.
)The fan speed range is 200-2200rpm and you can adjust the fan speed by yourself as your requirement.
In addition, it is very low noise, easy installation, no need for ceiling suspending, convenient maintenance and inspection in the later period, and good aesthetics, which is suitable for project transformation.
2、We are a Chinese factory. Does the floor fan coil unit you purchased from China have these advantages over the products produced by our factory?
)4-pipe floor fan coil unit: Four-in and four-out circulating waterway increase the water flow and the internal water circulation capacity of the heat exchanger is stronger, and the heating/cooling capacity of the whole unit is stronger than that of the other same product.
)There are 28 copper tubes in 2 rows in the internal heat exchanger, with a diameter of 7mm, and the spacing of hydrophilic aluminum fins in the heat exchanger is 1.2mm, which increases the heat exchange area.

Our promise:
If you use our 130mm ultra-thin fan coil, you don't have to worry about any quality problems, you can also enjoy more high-tech features and more importantly, but the product price is the same.
Product high-tech features:
DCBL motor, Noise as low as 25dB Ultra-quiet at night, creating a high-quality sleep environment.
BMS Connection, modern remote management systems. It can realize that to turn on the fan coil, adjust the temperature for pre-heating of the room by cell phone control.
Airflow modulated easily, 5 fan speed, the motor speed can be adjusted at will.
Wifi Control/Smart Touch controls, achieving intelligent life.
Sterilization device, UVC germicidal lamp. While cooling or heating, it can effectively improve indoor air quality, kill harmful bacteria and filter dust in the air.
High efficiency. Heating and Cooling, cooling capacity from 3.75KW-5.5KW, heating Capacity from 5.5kw-8.2kw.
The thickness of the machine is only 130mm, which saves space and is more beautiful
OEM/ODM/OBM (Support Customization)
3、If you are also a supplier: Do you know how to recommend fan coil units that are more suitable for customers?
Let us talk about it.
At present, the best seller of our company in foreign trade is the ultra-thin exposed fan coil unit with 130mm depth.
There are two models YG-20 and YG-30.
The cooling capacity of these two models is based on 3.75kw and 5.5 kW.
4、What size room are they suitable for?

Select the product model according to the size, structure and clients requirements.

Concrete room structure, under the condition of good thermal insulation:
120w cooling load per square meter.
YG-20 has a cooling capacity of 3.75kw calculated according to the medium-speed, which can meet the heating or cooling requirements of 20-25 square meters
YG-30 has a cooling capacity of 5.5kw in medium-speed, which can meet the heating or cooling requirements of 30-35 square meters

If the insulation effect of indoor room structural materials is poor, the use area can be reduced according to the actual user demand.